MOTO: Mail & Telephone Order Credit Card Processing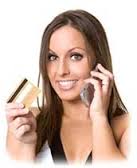 MOTO( Mail Order, Telephone Order) are the perfect credit card processing solution for Merchants that want to accept credit cards over the phone, by mail, or other means where a customer's credit card isn't available at the location where the card will be processed.
Merchants with a MOTO can process credit card payments by entering the credit card information directly into a Terminal that contains a keypad, by using Terminal Software installed on a personal computer, or by using a Virtual Terminal that allows Merchants to use a regular web browser to process credit card transactions.This is way these MOTO merchants also known as Card Not Presentand Key-Entered.
Because the customer and the credit card are not present when a transaction is processed, MOTO are considered to be higher risk than Retailers and in consequence its processing rates are higher. But these rates, similar to those of internet ecommerce companies, are a small price to pay for getting more customers -regardless of their location- and the significant increase in sales volume that comes with taking credit cards by mail and by phone.
Take Credit Cards by Phone and Mail orders. Get the best MOTO !
Our Company provides affordable MOTOfor businesses that get a good portion of their payments from Mail Orders and Telephone Orders (MOTO). Our MOTO Credit Card Processing solution is designed to streamline the check clearing and banking process. This means an increased cash flow and a minimized lag typically associated with the check clearing process.
Some of the benefits of our MOTOinclude:

- Fast processing for "card not present" transactions
- Comprehensive fraud prevention
- Credit card processing for all major card types
- Online account management
- 24/7 Support
Increase your profits with our MOTO Credit Card Processing. Take action now!
allows Merchants to accept credit cards and debit cards by Telephone and Mail orders. Increase your sales and profits in a competitive market where customers demand payment flexibility. Take advantage of our low rates and save money on your monthly processing costs with our affordable MOTO. Click on the link below to start processing credit cards now.
Questions? Contact our MOTO Experts!