Travel Agency & Credit Card Processing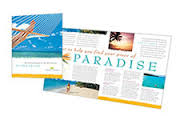 Many credit card processors wont offer services to travel agencies. Our Company has established relationships with many of the top merchant acquiring banks in the world. This allow us to provide your travel business with reliable credit card processing solutions with our Travel Agency friendly services.

Most businesses in the travel industry are considered "High Risk Merchants" so the costs associated with credit card processing are slightly higher compared to a regular retail stores. Our merchant services business depends on the success of your Travel Agency company, therefore, we work hard to provide you the best at very low credit card processing rates.
Travel & Leisure Companies We Support:
- Domestic and International Travel & Tour Guides
- Exotic Vacations
- Charter Airline Tickets Flights
- Private Jet Services
- Bus Tour Operators
- Discount Clubs
- Memberships and Associations
- Hotel Booking and Lodging Solutions
- Cruise Ship Booking Services
- Nudist Camp Grounds
- Adult Cruise Lines and Erotic Vacation Packages
- Inbound & Outbound Telemarketing Services
- High Ticket and High Transaction Amounts
Flexible Credit Card Processing for Travel Agencies Merchants

Our Travel Agency lets you process credit card and debit card payments directly through your computer's internet connection. You have the ability to set up your merchant account to make it work in real time or you can use a "Virtual Terminal" to manually enter your credit card transactions. You choose what credit card processing works best for your Travel Agency. All funds coming from these credit card transactions are automatically deposited in your travel business' bank account.
Take your Travel Business to the next level with , the Provider that offers low credit card processing rates and the best customer service in the industry.
Make more money with our Credit Card Processing. Take action now!
Our service helps small businesses like your Travel Agency to accept credit cards, debit cards, e-checks and virtually all kind of payments. Increase your sales and profits in a competitive market where customers demand payment flexibility. Take advantage of our low rates and save money on your monthly processing costs with our affordable .
Click on the link below to start processing credit cards now.
Questions? Contact our Experts!
Learn more about and Credit Card Processing
Learn more about Offshoreand Offshore Credit Card Processing